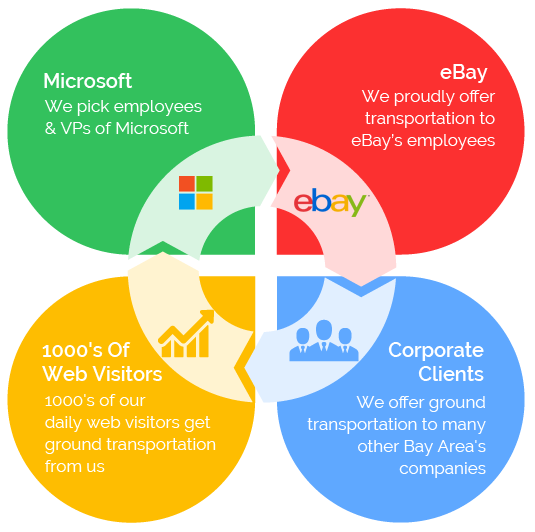 Sacramento Rental for Affiliates
Sacramento Limousine Service is one of the top-notch names in the transportation business in Northern California. We offer a wide range of limo, bus and ground transportation in San Francisco, the Bay Area, & worldwide in 120 different countries. Our company is looking forward towards the valuable association with other premier operators in the Sacramento, San Francisco, the Bay Area, and worldwide. If you are licensed and insured with the late model fleet of limos, sedans, SUVs, and buses, you can be our affiliates. Our company can pass the rental jobs to your company if you are up for joining our quality affiliate operator program. Our affiliate program can helo you do booking for your clients through our user-friendly web portal, or you can give us a call. Get in touch with us by sending your query, and we'll get back to you. As a team, we can make a valuable association that can be beneficial for both of us.
Join our affiliate program now, and we will offer you an array of premium services for corporate giants including Google, eBay, & our plenty of the customers located in Sacramento, the Bay Area, and San Francisco.

API
When you use our API you can directly book the jobs right from your website. You also get a chance to top some extra profit with the commission that we offer you.

White Label iFrame
When your customers use our secure link to make a booking, they will be able to book the transportation worldwide while they make a booking through your website.

Travel Agents
If you are a travel agent, we offer you a chance of making great commission while you book the transportation through our web portal.

Helpful
Training
If you think you might find it difficult or you have some doubts, relax, we are here to provide you the necessary training that will enhance your skills in which you can easily book jobs for your customers.

High average
Job Value
As our affiliate, you get a handsome commission from us, each time you book your transportation for your customers through our company.

Advanced scheduled &
On-Demand Work
No matter if you are looking for online or on-demand (at the spot) services related to transportation, our company is always there to offer you the top-notch transportation services.
Testimonials from our Affiliates
They deliver quality jobs that pay well.
– Amith Singh, Lavish Limousine
From SUV jobs to Mercedes Sprinter, it's always good work from Sacramento Limousine Service. We also book jobs for our customers through their portal.
– Juan Sergio, Kings Limo
Party Bus to Hummer Limo jobs, we always get quality ride business from Sacramento Limousine Service
– David Bitton, Platinum Limousine
For quality CPUC licensed companies
It's simple to get started

Signup Online
Lorem ipsum dolor sit amet, consectetur adipiscing elit

Upload documents & your rates
Lorem ipsum dolor sit amet, consectetur adipiscing elit

We'll call to show you the process
Lorem ipsum dolor sit amet, consectetur adipiscing elit